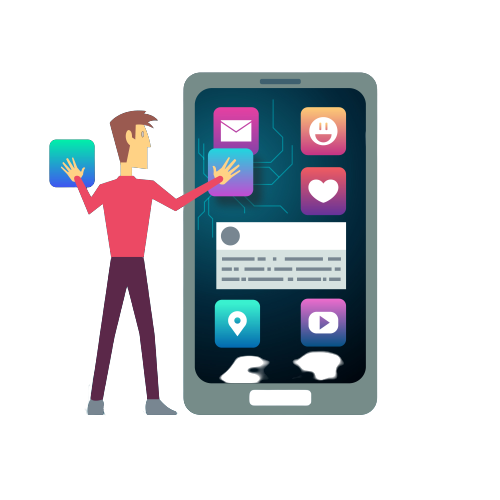 Best
Hybrid App Development

Company in Delhi NCR
A full-service Mobile Application Development company
Escale Solutions is a reputable Hybrid App development firm in India. Our team of designers and developers works on various development platforms to deliver you the best possible application for your business.
What's Different About Escale?
Our team of expert and experienced engineers help to create products and rendering services that cater to the client's requirements using the latest technologies.
Complete Business Consultancy
Summing up our expertise in the technical background along with a perfect business growth strategy equates to us being an efficient consultant for your business requirements.
We believe in engineering a high-end quality product for our clients through our efficient business processes with minimizing risk factors at every step. Qualitative engineering is what we practice for our products and services at Escale through our risk mitigating and efficient business processes.
We've worked with a variety of organizations and made them successful! Start your growth journey and unlock your hidden potential with Escale's Solution custom design and development.
Best App Development Company In Noida, India

Ionic App Development
Escale Solutions is the best Ionic development firm in Gurgaon that helps you create best-in-class, high-performance Ionic apps. Escale Solutions helps in making your thoughts a reality.
React Native App Development
Escale Solutions is the most effective React Native App development firm. With our team of skilled react developers, we are recognized for providing our clients with high-quality code and development.

Flutter App Development
Our user-friendly, high-performance flutter app development will help you grow your IT business. Using the flutter framework, you can create next-generation Android and iOS applications.

PhoneGap
With Escale, you can code your way to feature-rich, lightweight, and the best PhoneGap application development. Our expert development team is recognized for delivering high-quality products on time.

HTML 5
Our development team has extensive knowledge and experience with HTML and HTML5 technology. We have completed many projects using this technology for our clients. Please contact us to schedule your free consultation.

Titanium
The titanium framework allows you to create strong, elegant hybrid apps for your business. We have a team of titanium developers devoted to providing you with world-class design and functionality.
Our Portfolio
We've worked with a variety of organisations and made them successful. Start your growth journey and unlock your hidden potential with Escale's custom design and development solutions.
Our Success
The key to success is to focus on objectives rather than barriers. We have risen step by step and moved the organization forward.
Hindustan Uniliver Limtied
Frequently Asked

Questions
A Hybrid mobile app is a software application that consists elements of both native apps and web applications. As hybrid apps includes an extra layer between the source code and the target platform, their performance may be slightly slower than native or web versions of the same app.
We use several technologies to build Hybrid applications such as Ionic app development, React Native App development, Flutter App Development, Phonegap, HTML 5, and Titanium.
Yes, we provide free website maintenance service for 1 month after the project is finish. This free service includes Adding, Deleting, and Modifying text only. For availing AMC(Annual Maintainance Contract) service, you have to pay extra charges.
Yes, you can view our work portfolio To know the charges for Hybrid Application Development, please
get in touch
or contact us @
+91-8178045778
.
Hire
ON-DEMAND

project developers & turn YOUR IDEA INTO

REALITY

...
Our Blogs
Our Partners